A few weeks ago I made this cute bookmark card for a birthday. It's nice to send a card that has a little something special that can be useful, especially if you know any readers. It would also be great paired with a good book for a gift.
Since I made this before I started my blog I made another one with the same bookmark idea to post tonight.
Here are the supplies I started with although they are not exclusive because as I was creating I grabbed a few other things. PS the cupcake stamps and the bird stamps in the first picture are Inkadinkado's Cling Stamps and they are so cute! I also saw the cutest fish from the same line that might have to become part of my collection very soon!
So I stamped my bookmark, punched a hole and added brown ribbon. Then I decided to also trim the edges with my deckle scissors. (I deckle almost everything :) )
Next I trimmed down my pretty paper to the right size.
After playing around with positioning and also re-trimming a little I finally settled on this angle and glued it down with a glue roller.
I lined up my bookmark and ruler and then made a slit wide enough for the bookmark to slide through. Make sure you have your card laid out flat so you don't slit the back page of the card and be careful when cutting.
I repeated the cutting step with the top, only I placed the bookmark in the bottom slot and then ended up sliding it down to just above where I wanted to cut the slit making it more likely that I'd line up the slits well!
On the inside I just made a little handwritten note to let the recipient know it was meant to come out and tucked the ribbon in. Of course in the very first photo I used the ribbon as part of the card. There are tons of different ways to customize this card from what you put on the bookmark to how you display it in the card.
Front of finished bookmark card.
Linked up at: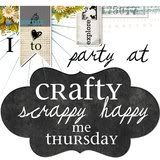 Clean & Scentsible
I Heart Naptime Sunday Scoop