I just love all the make it yourself fabric and paper flowers out there, they are just so amazing and cute. My first ever attempt was these rolled fabric flowers.
The third flower I tried last night was the rolled felt flowers. The basic idea is to cut a circle out of the felt (First I traced a coaster, then I tried a CDish plastic piece, which I thought would make bigger flowers, but they didn't really turn out too much bigger.)
Pencil didn't work super well, but there was a faint enough line (or roughing up of the felt at least) that I was able to cut an almost round circle.
Then I cut the circles like this...
The starting on the outside I rolled the felt pieces up and used my hot glue gun (for the first time!) to secure the end to the bottom.
And wallah! A beautiful felt flower.
At this point, my camera battery was pretty much dead. So I put the battery on the charger while I cut out a few more flowers. Then I took a pretty maroon one, a scrap piece of green felt that I cut into a leaf and glued them to an alligator clip. Oh it is so very very pretty. I played around trying to clip it to a headband (needs a different headband than what I have) and onto my ponytail holder in my hair. (Liked this look for me, much better than the headband idea). Then I was struck with Ahhha inspiration and thought how super cute it would be clipped to my fake (very fake) pearl necklace. But I couldn't find it. However I did fine it's matching bracelet, which I NEVER wear so I decided to make the bracelet into a necklace. Once I had gather my materials, my camera battery had charged enough for me to document this project a little. Here are the materials I started with.
I cut the bracelet and removed/separated the beads.
Then using cream colored embroidery floss I restrung all the beads. I had more than enough beads to make a long necklace, which worked out great because I like long necklaces and think that the long necklace looks so cute with the flower clip.
With the flower attached to the alligator clip here is the final product!
I'm excited to wear it tomorrow to a dinner I'm attending for work!
This post linked up at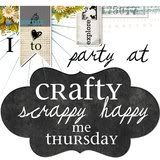 I Heart Naptime
Skip to My Lou