Sorry for the long vacation from blogging. In November I ended up with a few unexpected 700 mile round trips to spend some time with my Nana (grandma) who's leukemia returned after being in remission for about 4 months. And then another trip in December to attend her funeral service. I really miss that lady! She was the original crafter/DIYer/thrifty shopper in our family- my mom and I- we just follow in her footsteps. Then of course there was Christmas and a mad rush to finish Christmas gifts and then this last month has just been recovery from the holiday madness, spending some family time before the Husband started college courses again. But here I am and excited to get back into blogging.
Well, lets get onto the craft stuff. A little of what I've been up....
Baby Shower Gifts (For Shower 1 of 3 in January/February 2012)
My FIRST EVER blanket. Okay, so it's a little bit of a cheater. Last fall Walmart was phasing out their pre-cut fabrics to make way for the bolt fabric comeback. So I picked up some "kits" at crazy prices... Way less than what the material itself would've cost me. And since I
was
am a beginner when it comes to sewing it certainly wasn't a stretch for me to buy them.
Some burp rags for the same friend. At the same sale at Walmart I scored some really cute flannel in 5 different patterns. Each pre-cut piece was just about perfect for a burp rag. I just added some batting (which I needed for my blanket anyway! And got with a 40% off coupon at JoAnn). I was running out of time and am not a big fan of hand sewing so you'll notice one I tried out the fringe look on. I'll be going with that for
future burp rags.
I came up with the tags because on my blanket, the spot I left open to turn it right side out- well it was not the most amazing job of hand sewing it shut that has ever been done (remember I am still a BEGINNER!) so I wanted something to cover it up a little. I used a fabric marker, a $1 clear stamp and white ribbon. And I really loved how they turned out.
I just loved the monkey flannel fabrics, I almost couldn't use them/part with them because they were SO stinking cute.
Does anyone else ever have the problem of not wanting to use fabric because it's so pretty/cute you just almost can't cut it up????
Linking up at: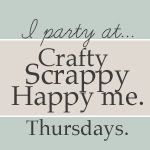 The Creative Spark @ Clean & Scentsible