I love to bake and decorate cakes. My cakes will certainly never get mistaken for professionally decorated cakes, but I have fun trying to be creative. Sometimes they turn out well and sometimes they don't.
I've made a few cakes over the past couple years for my nieces and nephews. Well, so far I've only gotten to make one nephews cake (twice) but hopefully this year I will get to do the other two too. Although, I have to say I think I'm going to switch to doing cupcakes. The frosting part is way easier.
Some of my past cakes:
Sister in laws 18th "Halloween" Birthday:
I did have my sister to assist me with the frosting/decorating of the above cupcakes. But the basic ideas were mine/internet inspired. My favorite was the vampire bite cupcake I thought it was pretty cool. My sister and I made all the chocolates as well.
Nephew 2nd Birthday Dinosaur Theme:
PS. I didn't do the writing on this one- my sister who is much better at cake decorating did the writing for me. I rolled the tops of cupcakes in crushed oreos for the "ground". The dinosaur started off as two round cakes and I cut/pieced together the dinosaur. I know I found it online, but this was pre-Pinterest for me so I couldn't tell you what the website was. :)
Sister in laws high school graduation:
This was my first time (and only time so far!) working with fondant. I made my fondant from marshmallows. It was difficult to work with especially at high humidity 80-90 degree weather while also taking care of my 18 month old while my husband cooked the pig. I love how the cupcakes turned out. And I liked the taste of the fondant. I thought the large graduation hat on the cake turned out pretty cool. The mortar board was made of from a large wafer cookie sheet that my dad happened to find on his trip up that week. The only problem was that it did bow a lot after it was on the hat for awhile.
My nieces 7th Birthday:
The Mermaid was purchased at the dollar store. I used a rolled wafer cookie for the palm tree trunk, green airheads to make the palm tree leaves, and brown food colored sugar for the island sand.
Church Fun Fest Cake Walk Cake:
Nephew's 3rd Birthday "Lego" Theme:
Using bread pans I made three sized legos. I had a real problem with my frosting and the little round pieces of the legos. But it didn't turn out too bad (and a strategically placed name covered the worst of it! :) )
I cut each marshmallow in half and then cut a smidge off the edges to try to get them to stick together. As you will see below, didn't always work. I cut the cookies in half (so I had 4 mouths per cookie- when they didn't break). I used all the red and orange sour gummies and when I ran out of those I went with orange jelly beans. I like the look of the gummi noses better. I added a dot of black icing to the eyes.
It's possible that I could've gotten a bit more precise (notice uneven pupils above!) but it was getting pretty late. I really liked them (even with the flaws) as did my sister in law and the other party guests.
Linking up here: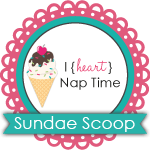 Weekend Wrap Up @ tatortots & jello