Every April for the past 4 years my husband and I, along with some of our family and friends, have walked the March of Dimes March for Babies. We do this to raise money for the March of Dimes in memory of two of our babies who were born prematurely and now wait for us in Heaven. The past two years, we've put forth a little more effort into fundraising beside just asking friends/family/co-workers for donations. Last year we held a spaghetti dinner fundraiser. This year we had a garage sale fundraiser and we also received some "prize" donations from 6 area businesses and 1 from my mom , which we gave away to some lucky individual sponsors via a drawing.
My mom donated a planter (you may have read my recent post about my vacation by my mom & her greenhouse business, if not you can read about it and see her awesome greenhouse
here
). The lucky winner was given the option of a flower planter or an herb planter and chose an herb planter. This is the planter my mom did....
It included a oregano, basil, rosemary, thyme, and parsley. And two pretty pansies for some color! :)
I have been totally longing to make some silverware plant markers. I actually have been collecting thrift store silverware like mad for the past 6 months or better with they idea I could make a bunch for her to sell at the greenhouse... well, I waited too long to start them for it this year and then got super frustrated on the day I started trying to do some! In my defense, I was busy... Most of my crafting is done after my little guy goes to bed and hammering on metal while he's sleeping is a dangerous idea that may interfere with crafting!
Anyway, I ended up deciding to add some plant markers to my mom's herb planter. Of course I decided to do this the morning we were delivering it. (Yep I often have these great ideas either last minute or at least try to execute them last minute!)
So I started sifting through my collection....
And came up with these candidates....
Aren't those little spoons way too cute?!?
I currently have 4 "sets" of metal stamps plus another on the way from Pick Your Plum :). I have a uppercase w/ numbers 1/8" set (very inexpensive from Harbor Freight), uppercase 3/32", lowercase 3/32" and numbers in 3/32". I just recently bought the 3/32" used from a fellow Etsy seller. The ones I have on the way are 1/8" lower case so I really have two "full sets."
I opted to use the larger uppercase. I was really wishing for 1/8" in lowercase at that time, because I LOVE lowercase. (Could you tell by my non capitalized blog/business name?)
I quickly had to find a new silverware piece for the "HERBS" marker as the I messed up with the first letter.
Since the spoons were so small (and I was on a severe time crunch) I opted to just do the first letter of each herb.
Once they were all stamped I headed up out of the basement and used a sharpie on the letters to darken them up. (you color over the letter and then quickly wipe off the excess)
With their shininess and my time constraints I didn't get the best pictures ever, but this is an idea of how it turned out. I was pretty happy with it and even my husband thought it was pretty cool.
I like to party at these awesome parties: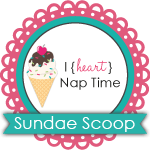 Crafty Scrappy Happy