My first ever craft show was on Saturday May 19th. It was a small outdoor show combined with a salon's cut-a-thon to help raise money to benefit a cancer non profit. The fee was minimal with additional requirements to donate 10% of sales and also to donate a baked good for the bake sale so I figured it was a good first show- Minimal cost but an opportunity to set up a display etc. I had just over a month to prepare but coupled with working two jobs and my March for Babies stuff I didn't get quite as much done as I wanted. I did make plenty of tutu's in a variety of colors but I didn't get very many flower clips done and I had hoped to add in a couple other items but just ran out of time.
I used my brand new Inkadinkado alphabet stamps and $1 ink pads to finish my color card and to make some signs.
I have seen a couple of displays around the internet using luggage. I happened to find a piece that is in perfect condition and used it in my display. I tied some twine around the top and used mini safety pins to hang several tutus up. I have picked up a second piece of luggage but it needs some TLC before I can use it but for 30 cents at a garage sale I couldn't pass it up!
I used a mug tree to display some of my (few) clips by stretching a headband between the pegs and clipping three flowers to each side. I also clipped a couple flowers to the twine clothesline.
The day started off just slightly breezy but soon some gusts had my tutus flying away. So I rearranged my display using a basket I had brought just in case and making more of a twine clothesline.
I also used some mini clothespins to pin some of the tutus right to the table.
I was pretty happy with the display. Although, there are definitely a few things I'd like to fine tune, plus a few more items I'd like to make. I was also happy that I had a nice neighbor next to me on one side (an empty space on the other) who was nice to chat with. I certainly didn't have a spectacular day sales wise but I'm considering it a learning experience and hopefully the next one will be better!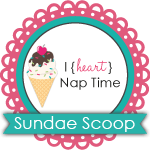 Crafty Scrappy Happy